I was fortunate during my time in the city in that my daily commute was easier than any other commute I've ever had. No joke. I never encountered the problems that the freeway commuters have to fight each day because I could use less-congested roads.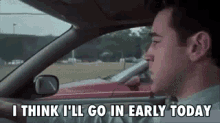 When I do have to take the freeways at certain times, though, I get a taste of "rush" hour.
Today was a typical Monday. I was headed out of town to take care of some errands related to the majesty of moving (another story for another day). At all of the major interchanges, I had enough time sitting still to take in the "scenery," and by "scenery" I mean scattered litter and smoke-belching tractor-trailers. I always budget my time to account for any potential problems, so I wasn't rushed, which is good, because there's nothing rushed about "rush" hour.
Three days later–or thirty minutes later, I think–I crossed the river into Arkansas and watched as the traffic began to thin. I figured I was about two towns away from being able to turn on the cruise control.
Before I was past the first town, I was rounding a corner with one tractor-trailer on my left, keeping pace with me the whole way. An on-ramp was to my right.
Annnnnd directly in the middle of my lane–there it was. The banana peel of the Interstate Highway System.
A big ol' industrial-sized chunk of tire tread.
I guess you could say I had some options to weigh:
Swerve to the left to avoid a tire and hit a giant truck instead.
Swerve to the right and potentially hit a car in my blind spot (I couldn't tell if there was one there or not–hence the term "blind spot") trying to make their way on to the interstate via the on-ramp.
Swerve to the right to miss the tire, over-correct before the potential other car can hit me from the on-ramp, and hit a giant truck instead.
Hit the brakes and cause a forty-two-car-pileup.
Try to straddle over the tire tread and hope the damage is minimal.
Oh, and I had about 2.463814 seconds to consider all of the above.
With about 0.294532 seconds to spare, I chose Option Number 5.
Option Number 5 seemed to be the choice with the lowest likelihood of significant personal injury and/or I-don't-wanna-think-about-it-other-possibilities.
The thud was significant, and I pulled over to wait for all of the bells and whistles on the dashboard to tell me I wasn't going anywhere.
That never happened. In fact, I couldn't even hear anything rattling, nor did anything about the vehicle feel different when I made my way to the next town over to pull into a gas station for a better look.
Everything seems to be okay for now, oddly enough. I hope it stays that way. The dealership also gave it a good look, and they even washed the car before I left. I'll say this, though–I'm a huge fan of coffee, but nothing in the world can keep you awake, alert, and paranoid on a commute quite like a large object in the middle of the road.
In the words of Forrest Gump, "I'm pretty tired. I think I'll go home now."
"Tire"d indeed.