A sneeze is a wish your nose makes.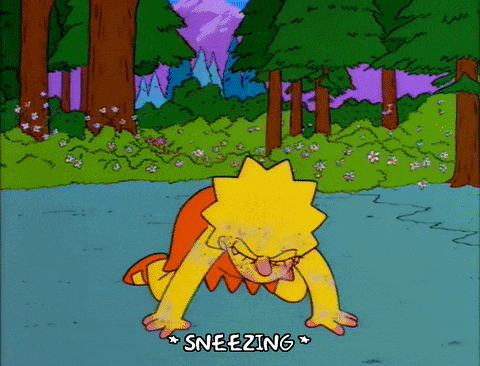 Yeah, okay. Not really.
Sneezing is nature's way of telling me that I should refrain from any and all outdoor excursions in the springtime. As an added bonus, I like to top my suffering off not only with sneezing, but with all of the available options on the seasonal allergy menu. If it's between my forehead and my chin and it can sneeze, wheeze, or water, it will. At Firehouse Subs, they'd call it "Fully Involved."
I call it March through May.
It's a shame, too. Springtime is so pretty. It's deceptive. I guess it's comparable to the Sirens in Greek mythology, luring me outside so that my violent sneezing can…oh, I don't know, transfer dandelion seeds to places where they can flourish miles away. (I'm not sure that's how it works. I'm not a botanist or a Greek mythologist or an allergist. I just know that my sneezing creates its own jet stream this time of year.)
Yes, it's a trap. Much like the heartbreaking discovery that I have a severe cat allergy but happen to love the little creatures, I'm also a landscape and nature photographer who is allergic to springtime. Sometimes, I'll even feel a twinge of sympathetic itching in my eyes when I just look at a photo of a pretty flower newly dressed for the season.
Still, I'll brave it for the perfect photo. The way I see it, if I can get two or three good pictures before I can no longer hold the camera steady due to a sneezing fit, I've had a successful outing. Bonus points if I can make it home before my eyes water and swell shut.
However, if a sneeze is a wish your nose makes, I wish it would decide not to sneeze anymore.