Oh, you thought this post was about something else. Sorry to disappoint. I am going to discuss hours, though. Waking hours, sleeping hours…the levels of functionality at different hours in the day. You might be bored by this. But, you're here, so you might as well pass the time by reading. Who knows? Maybe it'll help you sleep.
I have a window of about three to four hours a day that I feel like I'm operating at totally full capacity. (I think most people feel this way, too, regardless of the caffeine content of your coffee.) So, in my typical overthinking fashion, I've decided to break down a normal day so that I can figure out during which hours I function at peak functionality and try to replicate them at other times of the day…time. (Umm, that was a little redundantly redundant. Sorry.)
Let's take the morning hours to start, because that's when most people start their day. It's when I start mine. I'm sure you can relate. I usually set my alarm for 6:15, which means my paranoid "is-the-alarm-going-to-work" internal clock wakes me up at 5:00 and every five minutes thereafter. (By the way, anytime someone tells me that 5:00 a.m. is their finest hour, I'm inclined to run away. The last time 5:00 a.m. was my finest hour was when I wanted to get a head start on Saturday morning cartoons.)
By 6:30, I'm beginning to prioritize which corners to cut on my morning beauty-ish regimen. Knowing that I will regret skipping eyeliner by 10:00, it always takes priority, alongside concealer, which was invented for the express purpose of making a 6:15 wake-up-call appear effortless.
7:00 means breakfast, or something that will pass for breakfast. Whatever takes the least amount of effort. I'm very good at cooking drive-thru, which I pick up thirty minutes later.
By 9:30, I've begun to make progress in the field of alertness. Between 7:40 and 9:30 I've been functional—and courteous—but not necessarily overly chipper.
10:00 is good. 10:00 works well. If I could harness 10:00 all day, I'd be good. 10:00 to around 2:00 are usually my height of chipper-ness. Lunch helps (hey, we can always use recharging) and, if it's a sunny day, it's the mostest, bestest, sunniest time of day.
I do think, though, that the entire universe can relate to the 2:00 slump. If mid-afternoon could be represented by an animal, it would be the sloth.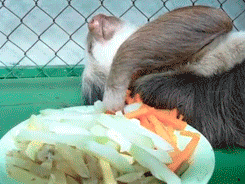 Studies have confirmed that these mid-afternoon lulls are commonplace. If those studies would really help us figure out what to do about them (besides taking a power nap—really, who has time for that?), that'd be peachy.
I usually get my second wind around 3:30, although it's more like a light breeze. Don't get me wrong—I AM FUNCTIONAL—I just feel very…oh, what's the word…blah. By the time evening rolls around, I'm ready to hibernate (especially in winter, my least favorite season), thus lowering the possibility for productivity on home projects, socialization, food preparation, or even changing the channel from whatever I left it on the night before.
I still, however, usually force myself to take on more stuff, crawling under the covers around 10:00 and kicking myself for not going to bed an hour earlier from time to time.
Maybe I should put a positive spin on this: I'm really good at functioning while tired. To be fair, I think most of us are. After all, we over-schedule, over-extend, over-exert, and overdo almost everything. So, perhaps getting that 10:00 to 2:00 feeling can be achieved by some simple restructuring.
In fact, let me consult my calendar to see what can be done.
Let's see. The hours from 10:00 to 2:00 look good for…everything.