I'm guilty. You're guilty. We're probably all guilty.
Guilty, you say? Of what?
True, on a philosophical level, we're all guilty of lots of somethings, so I suppose I should specify this particular instance of guilt before you all start beating yourselves up over other transgressions.
How many times have you said/heard/overheard/responded to this statement?
"Have a good one."
You know you've said it. You've also been on the receiving end of that statement. And I know that the linguists and comedians of the world have covered this topic (probably better than I can), but this is my blog and it's my turn, so there. If you don't like it, too bad. So sad. Love, Brad (whoever Brad is).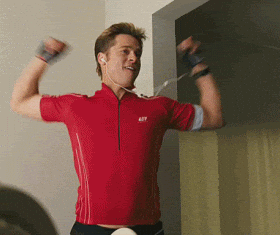 As I said, it's probably already been said, so, for my own personal record, I'll say it.
ONE WHAT?!?
Okay, okay, I get it—it's a substitute for "day." Why, though? "Day" is the same number of letters as "one," it's just as quick to say as "one," and it happens to be my middle name (a bit off-topic, sure, but I like my middle name). How did "day" morph into "one"? The "a" in "have a good day" along with the singular nature of "day" is already indicative of "one" being the understood unit of measurement in that statement.
However—to get back to the crux of this post—how does anyone "have a good ONE"? What is a "one"? It has to be a "one" of something—understood as "day" in this situation, as we have established, but someone might have missed the memo the day (or "one") that it went out—and I've just gone and massively complicated a simple pleasantry usually exchanged at drive-thru windows and banks in the name of the typical analytical paranoia that follows me around on a one-to-one (see also: day-to-day) basis.
I should take a nap.
A long one.