I've tried. I've given this winter thing a few decades to show me its redeeming qualities, and I just don't like it.
Maybe some of it has to do with where I live. In Arkansas, "hot" and "humid" go together like peanut butter and jelly. "Cold" and "icy" aren't typical words in the local vernacular. However, I live in the northeastern part of the state, where we can generally expect a little more winter than our friends in L.A. (That's "Lower Arkansas," for the uninitiated.)
"Oh, but I'd rather be cold than hot. You can always put on more layers."
Every time I hear that argument, I want to scream.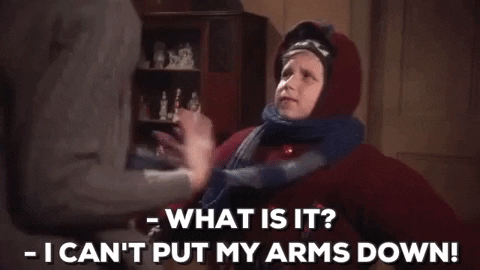 Most of the time, when I add layers, I end up sweating while at least one of my extremities is still numb.
I will admit that the first day the weatherman mentions the word "snow," I get a little bit excited. (That's "SNOW." NOT "flurries." When I hear the word "flurries," I get about as excited as I do when he says the word "sprinkles." You only need to mention "sprinkles" if you're bringing me a cake. Otherwise, it's insignificant to my outdoor plans.)
In Arkansas, though, it's the reaction of the masses that gets amusing. See, I was always taught that you'd want non-perishable items around the kitchen if you were facing a disaster of epic proportions (see also: 12 whole hours of being snowed in…with "snowed in" defined as .025 inches of slush). When the disaster is looming, though, it's the bread and milk aisles that are wiped clean before everyone settles in to hold down the fort. Because you know you're not going anywhere for at least three or four days. Because snow is slick.
"Y'all just don't know how to drive on that stuff."
True. But…most of the time we don't get actual "snow." We almost always get some kind of mix, usually starting out with a glaze of freezing rain. Sometimes, it's exclusively freezing rain, which is a total mess. If we get a layer of snow on top, at least it's prettier to look at while we're sitting inside waiting for the power to come back on.
(I'll admit…it's good for a laugh sometimes. Our friends to the north definitely have a sense of humor about it.)
And, on occasion, when we're not iced or snowed in, you can find a few little gems here and there.
Most of the time, though, we look at bare branches and gray skies for a couple of months.
So, if I had to rank my favorite seasons in order, it would probably look like this:
1. Spring, Summer, Fall
4. Winter.
Sorry, winter. You had your chance. Be sure to pick up all of your icicles when you leave.